03 Jun

CARRIAGES, SCULPTURES AND MORE ON DISPLAY AT BRIDAL EXPO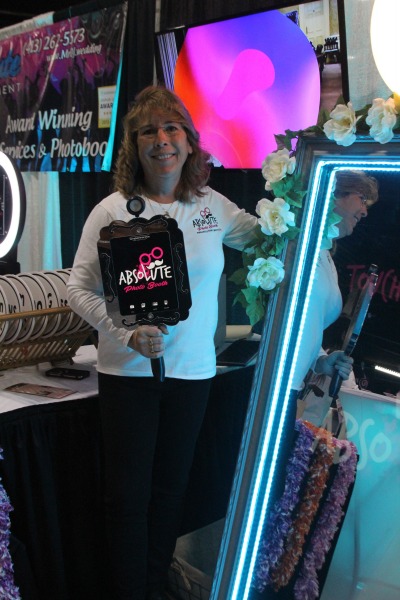 WEST SPRINGFIELD – On Jan. 12, the Springfield Bridal Expo hosted by Jenks Productions took place at the Eastern States Exposition in West Springfield. Over 100 vendors filled the Better Living Center, displaying services that are available to plan for a local wedding. Reminder Publishing spoke with various vendors providing services from budget-friendly to lavish to find out what the major trends are for a modern wedding and what the bride and groom can expect to pay.
The Springfield Bridal Expo featured numerous options to make a wedding stand out, from music and performers to photo booths and luxury portable bathrooms. Upon entering the Better Living Center, an ice carving of a swan by Modern Ice Company of Three Rivers was displayed as an example of wedding decor. Billy Poe, owner and ice carver for Modern Ice Company, said, "I've been ice carving for over twenty years, I know what I am doing and can make just about anything."
Go DJ Entertainment, a wedding entertainment planning company from Farmington, offers packages for lighting, decorations, photographers, photo booths, emcees and disc jockeys that are fully customizable to the individual needs of the couple.
Meladee Tiniakos, a Planning Professional for GoDJ Entertainment in Farmington, explained, "We plan it all, from lighting and decor to photography and a DJ, and we go all over the area."
Tiniakos shared that photographers, booths and music entertainment are common, but that the company also offers what are called "Above and Beyond" options. "We have seen a mix of plans, but everything can be custom. We can truly make every wedding different."
The "Above and Beyond" options include a digital photo green screen, a hypnotist, airbrush tattoos, inflatables, caricaturists, karaoke, mystery dancers (hired dancers that perform as a flash mob,) plasma televisions, game shows and a light-up dance floor. Depending on which services are selected, pricing can vary. For a spin on the traditional photo booth, Video Photo Booth Rentals in Belchertown bring a photo booth with video recording capabilities to weddings in the New England area.
Guests can record a one-minute message to the bride and groom in the booth. After the event, Video Photo Booth Rentals will compile all videos and photographs into a slideshow. The slideshow is copied to a flash drive and DVD disc for the couple.
Video Photo Booth Rentals also creates custom photo strip logo designs for the photography portion of the booth. Photos print within ten seconds. Unlike the average photo booth that prints a limit of two copies, guests have the option to print a copy for everyone in the booth. Photos are also uploaded to the Video Photo Booth Rentals website within two days of the event. Video Photo Booth Rentals charges $1495 for a four-hour rental, but prices can vary depending on packages.
Absolute Entertainment of West Springfield displayed a diverse range of entertainment options at the Springfield Bridal Expo. Owner Greg Belisle operates disc jockey and emcee services, while his wife, Rose Marie Belisle operates their several photo options.
Absolute Entertainment provides three photo options: the Magic Mirror photo booth, the Aura Selfie Station and the Roaming Handheld Selfie Mirror.
The Magic Mirror photo booth is a full-length mirror that gives guests the option to handwrite messages on the screen and to text message a copy of the photo to their phone. The Magic Mirror photo booth prices start at $995.
The Aura Selfie Station has options to post photos, GIFs and bursts to social media platforms. It has a camera with a lighted ring and a backdrop. Prices start at $795.
The Roaming Handheld Selfie Mirror is a mobile mirror that includes digital props, texting capabilities and an online photo gallery. Rose Marie explained, "The handheld selfie mirror is perfect for using on the dance floor or cocktail hour." Prices start at $495.
Many of the attire vendors at the Springfield Bridal Expo represented a breaking of the mold when it comes to choosing a wedding dress. Some brides are opting out of purchasing a dress brand new.
According to Frankie Hartnett of Sassy Pants Vintage from Northampton, vintage clothing and accessories are currently on trend. "Many people are going with non-traditional for their weddings. Bridesmaids aren't all dressing the same. They will choose different dresses. We have one-of-a-kind pieces." Hartnett said. Hartnett also shared that the shop's vintage articles fit all budgets. "We carry both women's and men's stuff. It's fun and affordable for people on all budgets." Hartnett said. Sassy Pants Vintage sells wedding mementos, clothing and accessories from the 1940s-1980s from all price ranges.
Joan Lowbridge-Sisley, owner of Sew Special by Joan from Wilbraham, displayed custom dresses at her booth. Lowbridge-Sisley not only alters dresses, but also can create custom and hand-embroidered pieces for the wedding party.
Transportation had a presence at the expo, including horse-drawn carriages and limousines.
Allegra Farm of East Haddam offer numerous horse-drawn carriages, coaches and sleigh rides. Allegra Farm carriages are famous for being featured in productions such as "Little Women" and "The Greatest Showman." Owner John Allegra shared, "Customers tend to rent carriage rides no matter the time of year. Anywhere from summer to winter."
For a more modern take on transportation, a traditional limousine was parked inside of the Springfield Bridal Expo by Exclusive Limos from West Springfield. Pricing for limousines range from $450-$995 and can vary.
After speaking with a variety of vendors at the Springfield Bridal Expo, it can be concluded that there isn't one set budget or way to host a wedding. From vintage clothing to extravagant carriages, brides and grooms have more options than ever to make their wedding day special.
To view a complete list of vendors and their websites, visit www.jenksproductions.com/event/springfield-bridal-expo.